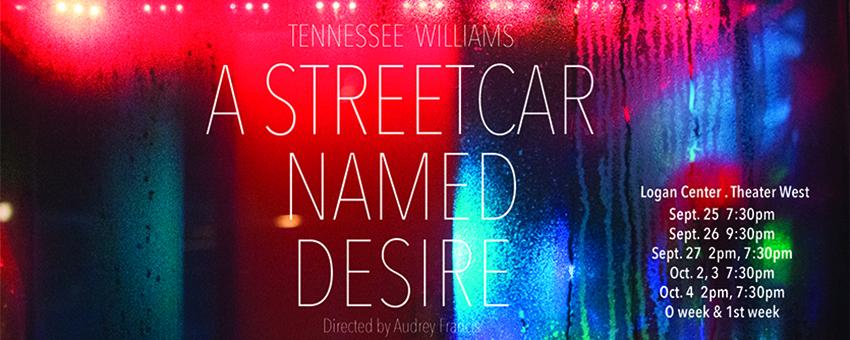 September 25-October 4, 2014
Logan Center, Theater West
The TAPS Acting Studio gathers student actors under professional direction to hone and showcase their skills. This year, jazz penetrates the sweltering New Orleans summer air in Tennessee Williams's classic A Streetcar Named Desire. Desperate romanticism and determined realism collide when Stella's sister Blanche enters a home that Stanley considers his own. Love, understanding and compassion are clucked and clocked by inescapable truths and indomitable wills. Muster the courage to experience our Fall 2014 Season opener, as these desperate characters find the strength to meet the American Dream head on.
By Tennessee Williams
Directed by Audrey Francis
CAST
Cameron Vanderwerf (Stanley Kowalski) is a third-year English and TAPS major in the College. Past University Theater roles include Lysander in A Midsummer Night's Dream, Ernst in Cabaret, Launcelot in The Merchant of Venice, and Billy in The Real Thing. 
Sophie Kennedy (Blanche Dubois), a third-year Political Science and TAPS major, is grateful for the many experiences she's shared with the UT/TAPS community over the course of the last 2 years, including as an actor in Two Gentlemen of Verona, Hotel Nepenthe, The Vagina Monologues, and As You Like It. Outside of UT, Sophie is also a proud member of BlackBox ACADEMY's Summer 2014 ensemble, here in Chicago. She is thrilled to be diving into the challenging and poignant world of Tennessee Williams with so many talented and passionate artists.
Chris Deakin (Harold "Mitch" Mitchell) is a fourth-year undergraduate majoring in Theater and Performance Studies. His credits include Buried in Bughouse Square: A Studs Terkel Circus (Narrator), New Work Week (director: "Stop/See"/curator), Godspell (musician), Springwood Central Honors Society (writer/director), Hedda Gabler (Eilert Lovborg), The House of Yes (Marty), The Merchant of Venice (Salanio, Prince of Arragon), The Glass Menagerie (Tom), The Lion in Winter (John), Twelfth Night (Sebastian) and The Violet Hour (Denny). He has also served as Assistant to the Director and the Managing Director of TAPS, and is a member of UT committee. 
Alex Morales (Pablo Gonzalez/Doctor) is a rising second-year most recently from North Carolina. Since coming to Chicago, he has starred in the Fire Escape film Benison and returned to the stage as the text-obsessed Simon Barr in Springwood Central Honors Society.
Alex Hearn (Steve Hubbell) is a second-year in the College and is very excited to be a part of Streetcar. This is his first acting role in a UT production, but previously he has directed a workshop production of The Still Alarm by George Kaufman and has performed as a part of Attori Senza Paura, U of C's only Commedia dell'Arte troupe.
Alexandra Merritt Mathews (Eunice Hubbell) is an actor, director and writer based in Chicago and Buffalo. Previous roles include: Before the Window (devised) (Violet Hammond), Cabaret (Fräulein Schneider), PLATH/HUGHES (Sylvia Plath), The Drowsy Chaperone (The Drowsy Chaperone), ALICES: Adventures in Wonderland (Secunda), The Taming of the Shrew (devised) (Kate), 'Tis Pity She's A Whore (Richardetto), An Actor Prepares (Stanislavski #4), Coriolanus (Menenius Agrippa/Fight Captain), and A Chorus Line (Sheila Bryant). Film credits include: Dwelling and Battledogs. Alexandra is the founder and director of Curtain Up! at Nichols School in Buffalo. She is a fourth-year in the College, majoring in Comparative Literature and minoring in Theater and Performance Studies. She is the Musical Director of Soul Umoka and she is a member of the dance ensemble Balkanske Igre. Be sure to see her in the remount of PLATH/HUGHES this fall at Gorilla Tango Theatre! Visit alexandramerrittmathews.appspot.com for further information.
Stephanie Litchfield (Stella Kowalski) is a fourth-year TAPS and Comparative Literature double major in the College. Previous UT credits include The Hamletmachine (Ophelia) and The Real Thing (Debbie). Non-UT credits include Love's Labours Lost (Katherine), Volpone (Celia), and Strains of Triumph (Ann). In addition to her studies at the College, she has also studied acting at the American Conservatory Theater (San Francisco), Black Box Acting (Chicago) and the Susan Batson Studio (NYC). 
Ty Easley (Collector/Asst. Dramaturg) is a third-year in the College and frequently declares his major to be Physics and Math. While most of his time at UChicago has been spent with Attori Senza Paura (UChicago's only Commedia dell'Arte troupe), he's also had the pleasure of playing piano for Spring 2014's production of Cabaret and Fall 2014's devised workshop Barely There, sound designing Cabaret and Winter 2014's production of A Midsummer Night's Dream, and acting in New Work Week. He's looking forward to sound designing Henry V in the fall and directing Commedia's Fall showcase.
PRODUCTION STAFF
Laura Beth Ashlock (Production Manager) has been professionally Stage Managing and Production Managing for the past 10 years. She comes to University Theatre from Emerald City Theatre Company where she served as the Production Manager overseeing all mainstage and touring productions. Laura has also worked at Steppenwolf Theatre Company as the Production Management Apprentice and Chicago Shakespeare Theatre as the Production Management Intern. Her Stage Management highlights include being the Resident Stage Manager at the Dorset Theater Festival in Vermont, Stage Manager for the Human Festival in Chicago as well as numerous New Plays and World Premieres. Laura holds a BFA in Stage Management from The Theatre School-De Paul University.
 
Éamon Boylan (Asst. Scenic Designer) is a fourth-year studying TAPS and English Literature. Most recently he directed and conceived Before the Window, a devised piece in fellowship with the University and has assistant directed professionally around Chicago. With University Theater, he has directed Grey Gardens, The Glass Menagerie, This Property is Condemned, A Monologue from The Taming of the Shrew, was Assistant Director for The House of Yes, and looks forward to directing Macbeth this Fall. Also with University Theater, he has acted in Cabaret (Emcee). Reefer Madness (Lecturer), Henry VI (Warwick), What I Meant Was (Fritzie) and worked on staff for The Merchant of Venice and Godspell. He also has written and directed for New Work Week, Arts Apocalypse and co-curates the quarterly Theater[24] festival, in which he has performed many times. As a TAPS student staff member he serves as Front of House Manager North.
Nicholas J. Carroll (Master Electrician) has been a filmmaker and theater artist for over 15 years, and has been North Theater Manager for TAPS since 2012. As Director of Films at The New Colony (TNC), Nick directed two short films: So Many Days and the documentary Script Comes Last, an examination of The New Colony Process for creating new works of film, theater, music, and more. He also produced and directed B-Side Studio with TNC, a live studio web series. As a lighting designer, his highlights include TNC's 5 Lesbians Eating a Quiche Off-Broadway at the SoHo Playhouse, Actor's Gymnasium, and Hank Williams: Lost Highway with Filament Theatre Ensemble. He has had the pleasure of working with Redmoon, Bailiwick Chicago, Mercury Theater, Writers Theatre, Blue Man Group Chicago, Lookingglass Theatre, Court Theatre, Chicago Shakespeare, Dunkirk Studios, and Refractory Films in a variety of roles.
Marisa Chilberg (Asst. Costume Designer) is a fourth-year Theater and Performance Studies major in the College. University Theater credits in design include Grey Gardens, The Credeaux Canvas, Henry VI, and Cymbeline in addition to numerous directing and dramaturgy credits. Marisa is thrilled to be preparing costume designs for this fall's production of Macbeth and working as costume designer for Manual Cinema's premiere of Mementos Mori at the MCA this January. She plans to pursue a career in costume design after graduation.
Audrey Francis (Director) is elated to be directing again at the University of Chicago. Audrey has acted, directed and taught in Chicago for over ten years. She teaches advanced acting at the University of Chicago, Steppenwolf, and Black Box Acting—where she is also the co-owner and founder. Audrey is a Jeff Nominated actor who has been on stage at Steppenwolf, The Goodman, Victory Gardens, Writers Theatre, Northlight, Pine Box Theater, The Hypocrites and many other Chicago venues. She has worked on several television shows, most recently including Season 1 and 2 of the NBC Network series, Chicago Fire. Audrey can also be seen in the two upcoming feature films, Medal of Victory and Dig Two Graves. Audrey will be on stage again next spring in The Herd, directed by Frank Galati at Steppenwolf Theatre.
Matthew Gawryk (Lighting Supervisor) works primarily as a lighting designer here in Chicago, but has worn many hats while producing theater, dance, and music.  The Theater School at DePaul University graduated him in 2004 with a BFA in Lighting Design. His work has been seen at A Red Orchid, Mary-Arrchie, Piven, Second City, Lookingglass, and many other theaters.  He has toured domestically and internationally with Hubbard Street Dance and hit the road for a while with the gypsy/punk/marching band Mucca Pazza. A variety of theatrical outreach programs and summer camps have given him children to instruct in stage design, including the Chicago High School for the Arts during the 2010-2011 school year. He is a co-recipient of an After Dark Award, and a Jeff Award Nominee.
David Goodman-Edberg (Lighting Designer) is a TAPS major at the University. He has designed the lights for a number of on-campus theater and dance productions. Most recently with UT he designed Godspell and Fool for Love. Outside of the University, David has had the opportunity to work in Chicago with such venues as Chicago Shakespeare Theater, Court Theatre, Marriott Theater Lincolnshire, Athenaeum Theater, Ruth Page Center for Dance, Columbia College Dance Center, and Theater Wit, as primarily a freelance electrician. 
Matt Hawkins (Fight Director) is a Chicago-based director, actor and fight choreographer.  He is a Founding Member of The House Theatre of Chicago, an Artistic Associate and Resident Director with Strawdog Theatre and the recipient of five Jeff Awards.  He currently teaches Musical Theater Techniques at Northwestern University, and Movement and Stage Combat at Loyola University. Hawkins holds a BFA in Acting from Southern Methodist University and an MFA in Directing from The University of Iowa. He is married to Stacy Stoltz. 
Sara Lu (Sound Designer) is a fourth-year studying Biology and Music. She has been working with University Theater since her first year. She has sound designed Reefer Madness, This is Our Youth, The Credeaux Canvas, The Drowsy Chaperone, Hedda Gabler, Fool for Love, and Much Ado About Nothing, and assistant designed The Homecoming and An Actor Prepares. In the fall, she will be sound designing Macbeth (dir: Éamon Boylan).
James Newton (Music Director) is a self-taught musician excited to be making his theatrical debut as a composer with TAPS. He is a third-year in the College studying English, Creative Writing, and Physics.
Jenny Pinson (Properties Designer) has been a freelance Properties Designer in Chicago since her graduation in 2006 from The Theatre School of DePaul University where she received her BFA in Theatre Technology.  She's had the opportunity to work with a variety of theatre companies in the Chicagoland area including, Theater Wit, Redtwist Theatre, Oakton Community College, Route 66 Theatre Company, TUTA, Drury Lane Oakbrook, and Emerald City Theatre Company to name a few.
Nathan R. Rohrer (Costume Designer) has been a successful theatrical costume designer in Chicago since 2007 with over 100 productions to his name. His costume designs have been seen in theatre and dance productions citywide. He has worked with numerous Chicago dance companies, Hubbard Street Dance Chicago, River North Chicago Dance, Thodos Dance Chicago, Deeply Rooted Productions, and many others. Nathan has also designed for such theatre companies as Lifeline Theatre, Griffin Theatre, CityLit Theatre, and Emerald City Theatre, and has also worked with Chicago Shakespeare Theatre, Marriott-Lincolnshire Theatre, Northwestern University, and countless other performing arts entities nationwide. His picturesque costume renderings have been exhibited and sold in art galleries, and have been featured in Time Out Chicago. In addition to working as a freelance costume designer, Nathan is currently costume designer-in-residence at both Thodos Dance Chicago and Chicago Repertory Ballet, where he is a founding member. Nathan received his BA from the University of Wisconsin–Stevens Point.
Jacob Sevart (Stage Manager) is a second-year Computer Science major in the College and a lifelong technical theater enthusiast. Previous UT/TAPS credits include Hedda Gabler (Asst. Lighting Designer), Grey Gardens (Sound Board Op.), Godspell (Asst. Stage Manager) and Much Ado About Nothing (Stage Manager). He also works as an Audio Engineer at the Logan Performance Hall and a Technician at Mandel Hall. 
Jessica Kuehnau Wardell (Scenic Designer) is a Chicago-based scenic and costume designer, as well as a scenic and fine art painter.  Her credits include Hypocrites, Rivendell Theatre (Jeff recommended These Shining Lives), Griffin Theatre (Jeff recommended Company, Journey's End), Steep Theatre, A Red Orchid, Lifeline Theatre, The Building Stage, Pegasus Players, Circle Theatre and Metropolis Performing Arts Center.  International credits include set/costume design for the UK premiere of Andras Visky's Juliet presented at the Edinburgh Fringe Festival (Edinburgh, Scotland).  Jessica is a founding ensemble member of Adventure Stage Chicago and Backstage Theatre Company and artistic associate with MPAACT where she was awarded the Black Theatre Alliance Award for the best scenic design (2012).  Jessica earned her MFA from Northwestern University in 2007, and is currently the Director of Design for TAPS at University of Chicago. Check out her online portfolio at jesskdesign.com.
Dani Wieder (Assistant Director) is a third-year in the College. She has previously directed Cabaret, a main stage production, and Barely There, a devised musical theater workshop, with UT. She has also participated as a dramaturge, actor, and the Dean's Men Liaison to UT Committee.
Special Thanks to all the carpenters, electricians, painters, and technical support.